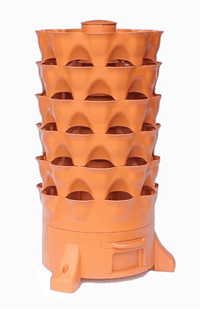 Recently named the "Worlds Most Advanced Container Garden", the Garden Tower® 2 features food grade USA-made HDPE (non-toxic, BPA & PVC free plastic) components, FDA-approved dye and UV-protection antioxidant package for health, durability and recyclability.
The rotating Garden Tower® 2 is a composter that grows 50 plants in 4 square feet nearly anywhere.
Turns waste kitchen scraps to organic fertilizer to grow organic produce.
The garden tower® vertical container gardening and composting system replicates a natural ecosystem allowing plants to access nutrients recycled through organic composting processes.
Easily grow nearly any vegetables, herbs or flowers organically.
An organic and resilient 6 cubic foot vertical soil-based alternative to expensive and difficult hydroponic systems.
Proudly 100% Made in the USA using 100% UV stable food-grade high-purity HDPE plastic, and backed by a 5-year manufacturer warranty.
43″ tall & 24.5″ wide. 36 lbs. (~220 lbs. with moist soil)
The Garden Tower® 2 is a revolutionary vertical self-contained garden / composting system that redefines home gardening, urban gardening and vermicomposting. Utilizing 6 cu.ft. of potting soil, the garden tower® vertical container gardening system allows for the abundant growth of 50 plants vertically in a minimal footprint and eliminates weeding, electricity, nutrient loss and most water loss associated with conventional gardening.
Garden Tower® 2 Improvements to the Garden Tower 1.1:
Enhanced nutrient distribution: The vermicomposting tube at the core of every garden tower® vertical container gardening and composting system features 265% more perforations for greater access by plant roots and enhanced aeration.

Stacking & nesting planting rings: Customizable tower height and less soil compaction.

It rotates! 360 degree rotation made possible by a robust integrated bearing track = optimized sun exposure and better plant access in tight spaces.

Removable compost tea drawer and compost screen: better access, controlled compost release and less bending over.

Wide, heavy, reinforced, anchor able feet attach the tower securely to a solid surface (rooftops, platforms, etc). The available Premium Caster Kit allows the Garden Tower to be frequently moved. (DO NOT insert wheels or casters directly into the feet. Over time this will damage the unit and void the warranty.)
Even heavier built and more UV resistant: The Garden Tower® 2 is a full eight pounds heavier than the robust Garden Tower® 1.1 and features the maximum amount of food-grade UV protection available in the industry for an expected 7-12 year lifespan even in harsh climates. The garden tower® vertical container gardening and composting system IS the Ultimate Patio Farm.
Garden Tower 2 User Videos:
Garden Tower® 2 User Photos: